Some things that have kept me from my UFOs:
Baby Booties. I was commissioned to make some for Shameless that will air in February or March. Joan Cusack will be knitting them so I made one complete and one partial with needles still in it. I hope the DPNs don't fall out! I hope they can figure it out… 😉
I used the Seamless Baby Platform Shoes pattern. The photo just cracked me up so I had to go with them. I knit them while door monitoring at VK Live.
I made this pair back in April that were supposed to be "pink booties — comically misshapen." I wasn't sure, but the prop master liked them. Unfortunately they must have ended up on the cutting room floor because they were supposed to be in the final episode of Breaking In, but that scene never appeared. It was a cute show. I hope it comes back.
More booties for friends, one in blue and this one in pink. I'm using Ruth's "Perfect" Baby Booties pattern. I knit blue ones straight from the pattern and I discovered that what would make this pattern even more perfect for me was to knit in the round. The pink ones are modified to do just that. Look, ma! No seams! Whooo Hooo!
I knit this lovely neck warmer for Unwind. It only took a couple of days.
I remembered another UFO in my queue. It's this poncho in Be Sweet Extra Fine. The colors are fuchsia and aubergine. I don't know why I started this. I don't even wear ponchos. I don't really like ponchos. I got caught up in the moment I guess. Lisa at Unwind had just finished this and put it on me to see where to put the ribbon to join it. And it was cute. And the colors are totally my colors. I'm not sure I'll wear it as a poncho though. It will make an extra big scarf or wrap.
Another project I got caught up in was Mina. Yes, this is a KAL from Heather Ordover's book, WWMDFK. We're currently listening to Dracula, and this lovely shawl is the Wilhelmina Shawlette by Chrissy Gardiner.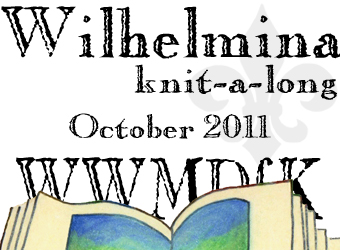 I knit this in a lovely dark red Shilasdair and ran short about 6 rows. I ordered more, but you know my track record by now.
The new skein is quite a bit lighter than the old. I'm not sure how I should handle this. I could reknit the whole thing using one skein per row, but that may turn out a bit stripey. Or I could go back a couple of rows and pretend like I meant to do that for the edging. Oh, I don't know. It will probably sit for a while. What do you think I should do? Leave a comment below.
I really need to get back to the Houndstooth Scarf in Koigu. I did a swatch, but I think I might loosen it up a bit.

The problem with all this knitting is that I've been staying up very late at night. "One more row, I've got to finish this repeat…" You know what I mean. 😉